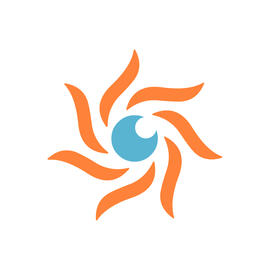 EN-CHARITY:
Chapter One
In commemoration of ENHYPEN's group formation and debut anniversary, ENHYPEN UPDATES (@enhypenupdates on Twitter) presents a yearly charity project called, "EN-CHARITY : Chapter One", with the goal to give back and contribute to communities for the global good.This year, let's celebrate ENHYPEN's #2022ENniversary by turning our polaroid love into PAW love to give our fur babies a happy and comfortable lives! 🐾
---
#PAWlaroidLoveForENHYPEN
PAWSSION PROJECT
FUNDRAISER
ENHYPEN UPDATES supports Pawssion Project in its dedication to rescue animals suffering from abandonment, abuse, injury, or neglect—whether it is a street dog or cat in need of medical treatment or their ongoing fight against Animal Cruelty.All donations will proceed to Pawssion Project's endeavors.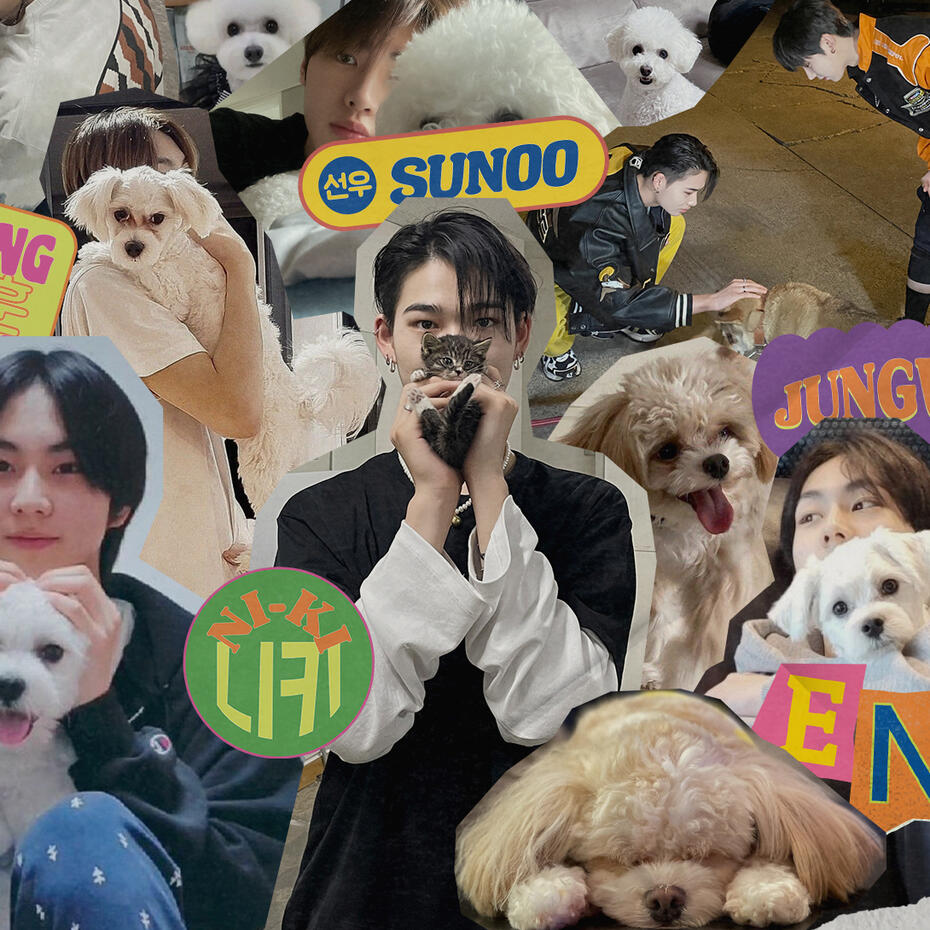 ---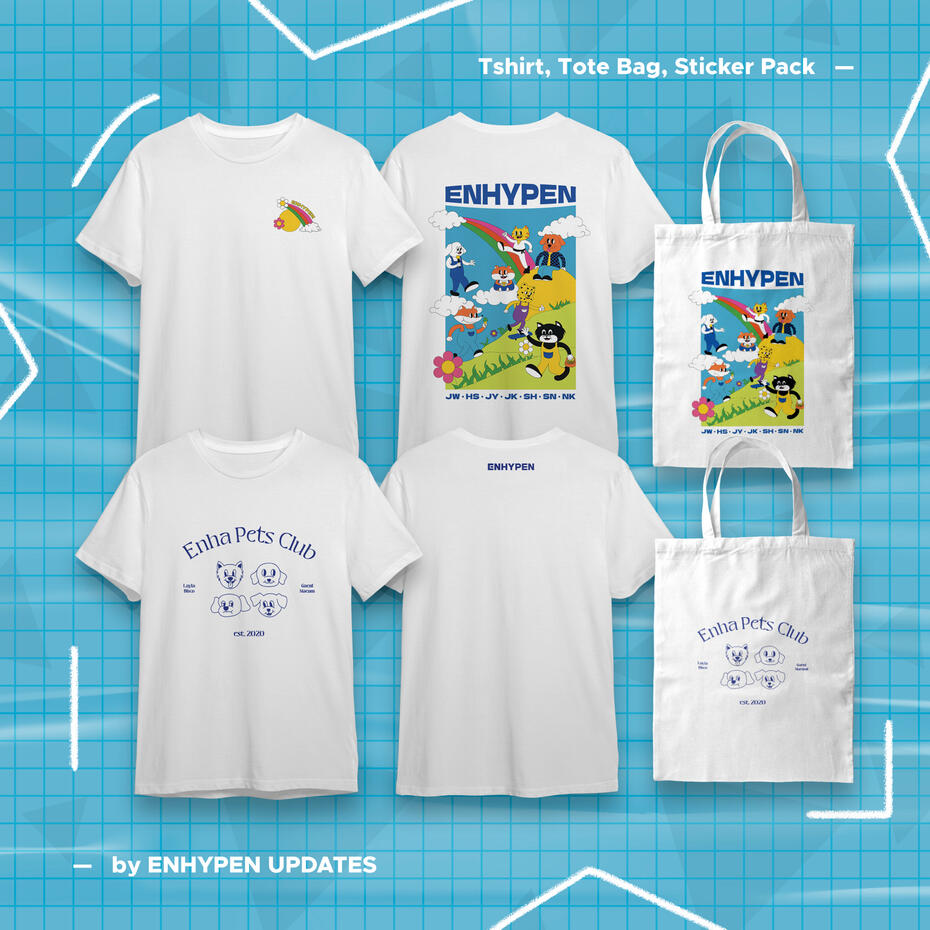 #PAWlaroidLoveForENHYPEN
MERCHANDISE
FUNDRAISER
ENHYPEN UPDATES presents its first merchandise fundraiser consisting of t-shirts, tote bags, and stickers—designed by the fanbase's own creatives team to highlight the pet series, EN-IMAL and ENHAPETS.100% of the profits will proceed to Pawssion Project.We look forward to bringing our fur babies to your lovely homes with our merchandise! As sung in PAWLAROID LOVE, "My heart goes…WOOF WOOF." 🎶📸For international group orders (GOs) and group order managers (GOMs), please contact us on Twitter (@en_charity).
---
#PAWlaroidLoveForENHYPEN
DISCLAIMER
EN-CHARITY: Chapter One is solely a fan project led by ENHYPEN UPDATES, consisting of various ENGENE volunteers across the globe. The project is not in any way endorsed by ENHYPEN nor affiliated to BELIFT LAB.In addition, ENHYPEN UPDATES reassures everyone that the fanbase and its members are not profiting off of this initiative. A transparency report and screenshot of proof regarding the transaction will be provided once the donation has been made in the name of ENHYPEN. Likewise, a Google Form will be provided to be filled up by donors so the team can consistently monitor the funds.Please do not donate to any account other than the information we provided. If you have any queries or concerns, please contact us directly.
---
EN-CHARITY : CHAPTER ONE
ABOUT THE PROJECT
---
---
THIS YEAR'S CAUSE
ANIMAL WELFARE
Dogs continue to be executed in city pounds, and the number of strays and neglected pets are rising dramatically. But we believe that WE CAN ALL DO SOMETHING to help improve animal welfare in our country. Do not close your eyes to animal cruelty, help spread awareness that there is a law against it (RA8485). Be a responsible pet owner and encourage others to do the same. Promote neutering of pets to help control overpopulation. Adopt, foster, sponsor, volunteer, donate or advocate. Every little action counts.— Pawssion Project PH
---
EN-CHARITY : CHAPTER ONE
MERCH FUNDRAISER
---
#PAWlaroidLoveForENHYPEN
EN-IMAL VER.
Fear not feeling alone, because life is undeniably better with EN-IMALs at your side!Inspired by the ENHYPEN members' official animal representatives (as seen on Pieces of Memories Photocard L-Holder), the EN-IMAL version is designed with vibrant suns, colorful rainbows, and pleasant flowers, just like the upper side dreamin!The EN-IMAL version is perfect for ENGENEs who wish to shout out their inner child, and feel more connected with the 7 wonders of nature!MATERIAL: Premium Cotton & Canvas Tote Bag
PRINT: Digital Print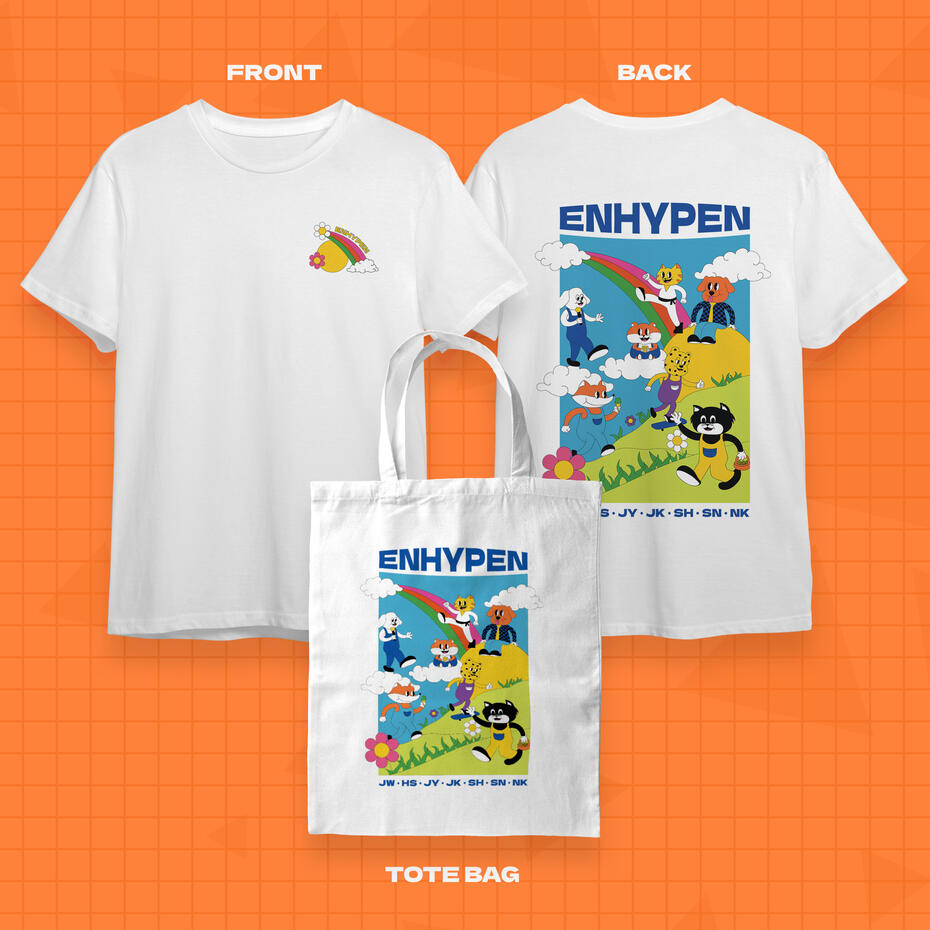 ---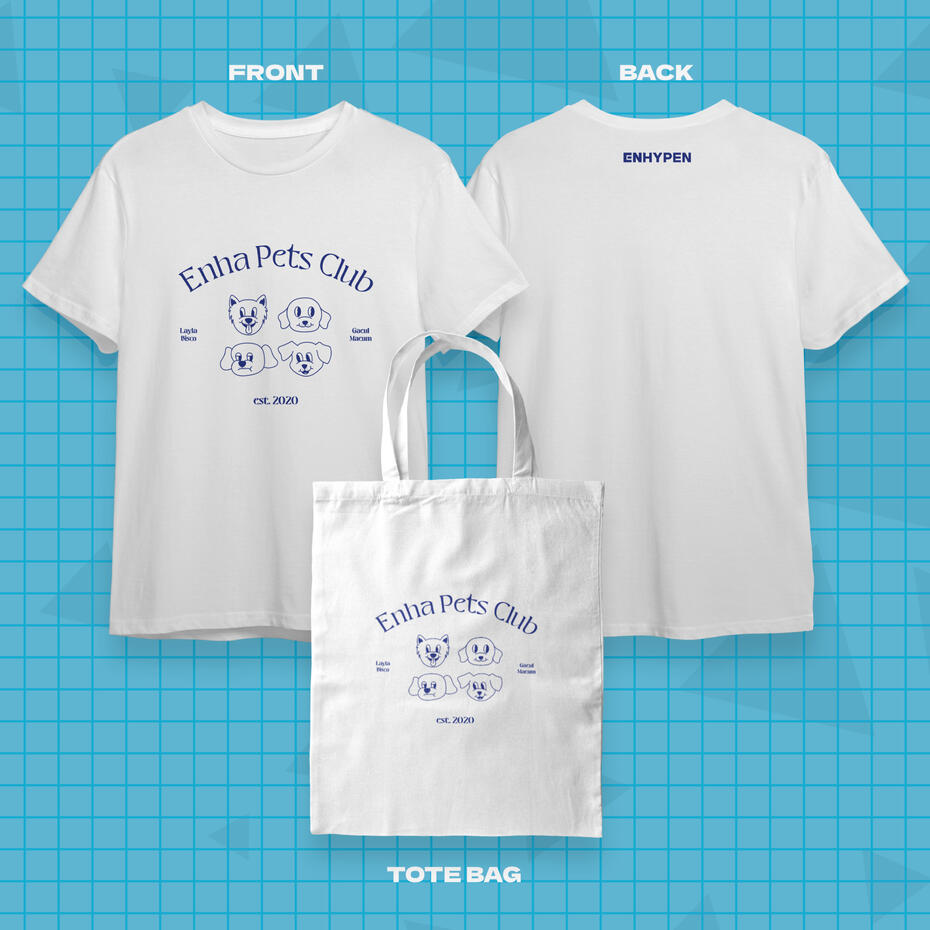 #PAWlaroidLoveForENHYPEN
ENHAPETS VER.
Who let the dogs out? 🎶🐶It is time to experience the 10 Months Love as you become a member of the ENHAPETS Club! The ENHAPETS version is designed to highlight ENHYPEN's fur babies, namely: Maeum, Layla, Gaeul, and Bisco.Indeed, love is a four-legged word, and the ENHAPETS version is perfect for fur-loving ENGENEs who are inspired to let their PAWLAROID LOVE out!MATERIAL: Premium Cotton & Canvas Tote Bag
PRINT: Silkscreen
---
#PAWlaroidLoveForENHYPEN
PAWLAROID
STICKER PACK
It's time to feel PAWSitive and fanta-STICK with our PAWLAROID Sticker Pack!Made with 1130% love, our 11-piece vinyl sticker pack is scratchproof and waterproof, making them perfect for scrapbooks, journals, tumblers (and more)!The PAWLAROID Sticker Pack is perfect for ENGENEs who wish to reminisce their exciting memories with ENHYPEN's fur babies—"til the e-end of time, the story of you and I." 🎶🐶🐈MATERIAL: Eco Solvent Vinyl
PRINT: Digital Print (Die Cut)
---
IMPORTANT DATES TO REMEMBER
MERCH FUNDRAISER
1. DEADLINE OF ORDER (DOO)
November 10, 20222. DEADLINE OF PAYMENT (DOP)
November 10, 2022 (11 PM PHT)3. ESTIMATED DATE OF ARRIVAL (ETA)
2-3 weeks after Deadline of Order (DOO)
---
FREQUENTLY ASKED QUESTIONS
MERCH FUNDRAISER
1. Where are you located?
Admin incharge of the merchandise is based at Quezon City, Philippines.2. What are your Modes of Payment?
GCash, UnionBank (Philippine-based Bank Transfer), or Paypal (only for international orders/GOs/GOMs)3. What are your Modes of Delivery?
GoGo Xpress (COD), Shopee checkout (at your own risk), Lalamove (Same day delivery for Metro Manila residents only). We will NOT be collecting shipping fees. All shipping fees will be on COD basis.4. Do you ship internationally?
We will be accommodating international Group Orders. If interested to join or hold one, please contact us on Twitter or Instagram (@en_charity).5. Do you have onhands?
This merchandise fundraiser is on a pre-order basis. Meaning, we DO NOT have onhands and production of merch will only commence after the last day of ordering.6. Where will the profits go?
ENHYPEN UPDATES will donate 100% of profits to Pawssion Project.
---